The header image above is the difference between last years damson (lighter colour) and Sloe (Darker colour) Gins.
I make quite a few of my own drink every year, both alcoholic and non-alcoholic. Home-made lemonade is far superior the the store bought stuff and Sloe gin is one of my all time favourites, especially at Christmas.

The advantages of making your own drinks is you know exactly what goes into it and you can control how strong the flavours are and the sugar content, if like me you don't have a sweet tooth.

I have to confess I find plums a little boring and think that most members of the plum family benefit from spending at least 6 months swimming in strong alcohol of some sort!

Below: Starting this years wild plum gin.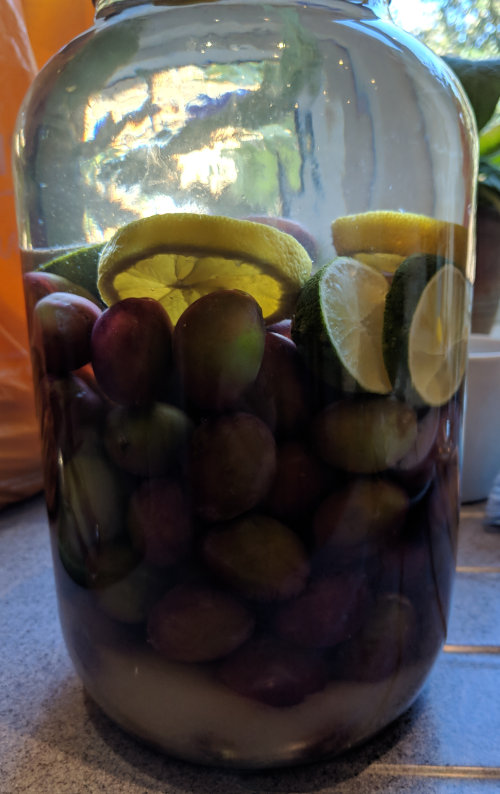 How do you make your own home-made drinks?
You can make home made drinks by :
Fermentation - Using yeast and sugar to produce wine and beer and to carbonate drinks the natural way.
Steeping - Adding fruit to ever-clear, vodka or gin to produce a fruit liqueur.
Making concentrates that you later add to water or soda to, like elderflower or raspberry cordial.
Making drinks at home is mostly pretty easy once you have found a recipe you like and for the most part you don't need to buy lots of equipment either.
What is the easiest alcohol to make at home?
Wines and beers from bought kits are the easiest drinks to make but it is much more fun to experiment with your own produce.

I make the left over red fruit into a sparkling wine every year and hard cider is easy to make. I also make Perry, or pear cider, with my left over pears.